Happy #ThrowbackThursday!
Last week we presented you with a highlight reel from 2015, including a meeting where we made a whole lotta pickles (and pickling spice mix to take home). Our host from pickles month, Cuoghi, was kind enough to send me the details I couldn't quite dig up, which she adapted from a number of sources.
Sure, it's not really cucumber season right now, but as Cuoghi reminded me: You can pickle anything!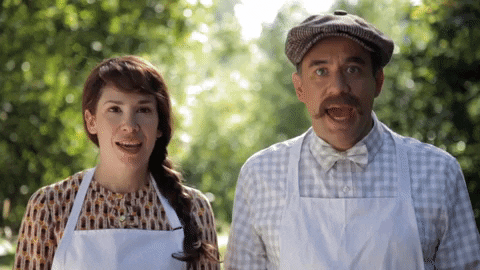 Pickling spice:
1/2 cinnamon stick
2 dried bay leaves
2 whole cloves
2 T mustard seeds
2 T whole coriander seeds
2 T black peppercorns
2 t whole allspice
2 t dill seeds
2 t caraway seeds
2 t chili flakes
Take cinnamon stick and either crush with a knife, jar, or rolling pin. Same with cloves. Tear bay leaves into very small pieces. Put all ingredients into jar and keep sealed.
Now, to put these to use, here's a few cucumber pickles recipes. Both make about 1 quart jar of pickles.
Dill pickles:
6-7  kirby or pickling cucumbers
1 c white vinegar
3/4 c water
2 T kosher salt
1 T pickling spices
3-4 fresh dill springs or 2 tsp dried
optional: 2-3 chopped garlic cloves, chile flakes, sliced jalapeno, you can add another teaspoon of dill seeds if you like them really dilly
Cut up cucumbers and put in clean jar and add optional items.
In a medium sauce pot, put everything else stir, bring to boil so that salt is dissolved, pour over cucumbers, seal jar. Let sit out for about an hour, then refrigerate.
Bread and butter pickled cucumbers:
About 6-7 kirby or pickling cucumbers
1/2 small yellow sweet onion, thinly sliced or chopped
1/4 cup Kosher salt
1/2 cup sugar  (could go 3/4 if you like them sweeter)
1 1/2 cup white vinegar
1/4 teaspoons ground turmeric
1 tablespoon mustard seeds
1 tablespoon coriander seeds
1/4 teaspoon celery seed
Slice cucumbers about 1/4 inch thick. Add to clean jar along with onion.  In medium sauce pot, put in everything else, bring to boil so that salt and sugar are dissolved and pour over cucumbers. Place lid on jar and let sit for an hour or so, then place in fridge.
Both of these are good for a month in the fridge.  Although the lids on these jars may seal and "pop" when you open them, they are not technically canned and have to be refrigerated.
Cheers!
– Cuoghi (and Reanna)